You deserve some "me time", and your hair deserves the best!
Enjoy the Franck Provost 5-star salon experience and escape the ordinary in the hands of Australia's most talented hairdressers.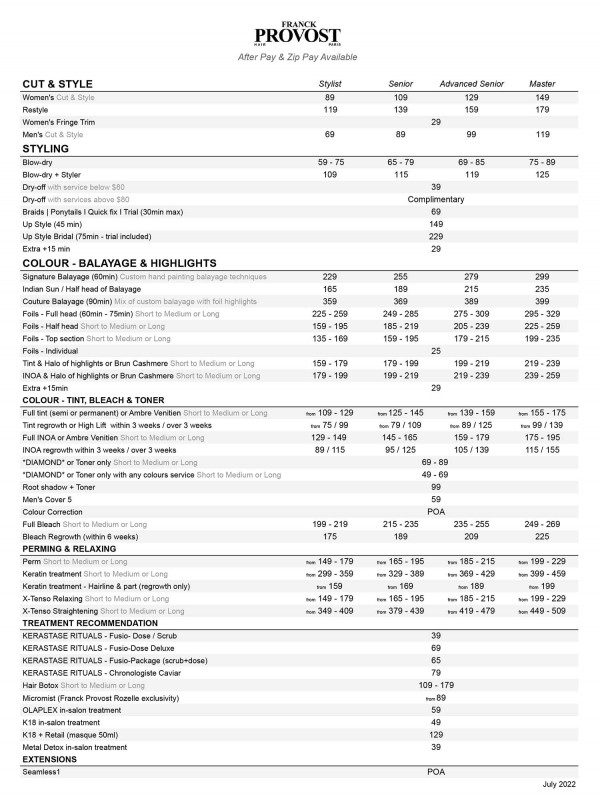 Prices may vary depending on the salon of your choice.A rough estimate can be given over the phone by our customer service team but your bespoke quote will be established during your free consultation by your stylist once he's seen your hair.
OUR POLICIES
1. An accurate quote can only be ­provided in salon by your hairdresser.­
Complimentary consultations are available for all services.
2. Franck Provost hairdressers are ranked according to their level of ­seniority.
This is determined by ­training and ­practical experience, which is reflected in our pricing structure.
3. Online booking and all services over 2.5 hours require a security deposit to confirm the ­appointment.
4. As part of our service, a confirmation SMS is sent to every client 48 hours prior to the appointment.
Franck Provost salons reserve the right to cancel a non-confirmed ­appointment.
5. Your satisfaction is our ultimate priority. If you did not get what you requested, please let us know ­within 7 days. We will invite you for a ­­complimentary appointment to rectify the issue.
6. Changes to the appointment time or cancellations must be made at least 24 hours
prior to the actual appointment time to avoid a cancellation fee.
7. Please note that there is a $10 surcharge applied to blowdries on Sundays.
8. Whilst every care is taken with your personal belongings left inside the salon, please note that they are left entirely at your own risk. We do not cover any damage on personal belongings.
9. Please note that your salon doesn't accept returns on opened hair products, tools, and hot tools.
Thank you for understanding & supporting these policies.
FRANCK PROVOST SPECIAL OFFERS – TERMS & CONDITIONS
Follow this link to discover our T&C's